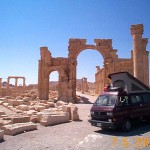 The Syncro Forum is finally functional after weeks of trying to fix a simple problem.
There's even a 1990 Syncro Weekender posted for sale for $9, discount cialis sovaldi 500 in B.C. And Giordano from Milan posted a pic of his beautiful red syncro to the main forum. Giordano hosts a T3 website and forum in Italy:  Jokeristi.it
We have run into some snags in finishing up the site, cialis buy find but hope to overcome them shortly. Once it is up and running, the blog will feature regular posts from several different authors. Contributors welcome even for a single guest post.
Stay tuned!